A magic night at the 2018 ProShare Awards
6 December 2018
Another fabulous event to celebrate the very best achievements in the field of employee share plans. With 27 companies shortlisted by this year's judging panel, 5 commendations and 13 winners, we were absolutely delighted to see our clients amongst them.
It's vital to recognise the fantastic benefits of employee share ownership and the continuing importance it can play in company development by giving employees a real stake in their business.
Well done Gabbi and Zoe on another wonderful evening #ProShareAwards2018.
Edinburgh Regional Share Plans Event
8 November 2018
On 8th November, our team at YBS Share Plans hosted another successful Share Plans event in Edinburgh. This is a key event in the calendar where we share the latest news, trends and best practices.
This is what we covered:
Discretionary Plans - Policy & Advice
Employee Engagement - Nucleus Financial case study
Employee Engagement - Kier Group plc case study
Tax Update
Financial Wellbeing - Virgin Active case study
We're happy to help! Please read our events notes for more detail. If you'd like to attend one of our events, email now to register your interest.
Irish ProShare Association ("IPSA") - Employee Share Ownership Day 2018 and the IPSA Awards
26 June 2018

Ensure your employees feel empowered over their financial stability.
The second Employee Share Ownership Day ("ESOD18") took place last week at Google HQ, Dublin. YBS Share Plans would like to thank Gill Brennan, IPSA CEO and the IPSA team for organising such an excellent event. This was a great platform for attendees to network with industry peers, catch up on the latest trends and benchmark the reward strategies in place against their own offering or those they design for their clients.
Lord Mark Price provided an inspiring and passionate speech as he opened ESOD18, now Author and Businessman, former John Lewis Partnership ("JLP") Deputy Chairman and UK Minister for Trade, Lord Price shared how important it is to empower employees, recognise them and keep them well informed.
In summary, the JLP vision was to create happiness in its employees! No business figures, targets, just keep your employees happy, how amazing is that? JLP believed that if it has a happy workforce they would love coming to work (less sick days), they would work harder and look after things (more productivity and less wastage) and this in turn would bring in more profits that could be shared amongst the hard working employees. What a simply brilliant idea!
Amongst the speakers, Gillian Dully, Associate Solicitor for LK Shields gave a brief overview of the different share plans available and the part they play in a company's overall reward strategy and employee engagement. There were also a number of Panellists, including Gabbi Stopp from ProShare UK who spoke about the research YBS Share Plans had sponsored with Secondsight and WEALTH at work and how important it was to look at Millennials and Gender reporting going forward to really engage with the future decision makers. If you would like more information on this topic please contact us.
Moving on to the Awards evening…
The IPSA Awards 2018 lived up to its promise to be an amazing night celebrating everything that is great about employee share ownership in Ireland. A black tie event which saw our very own Provident Financial win the award for Most Effective Employee Communications of an Employee Share Plan, for the second year running which Provident Financial and ourselves were delighted with.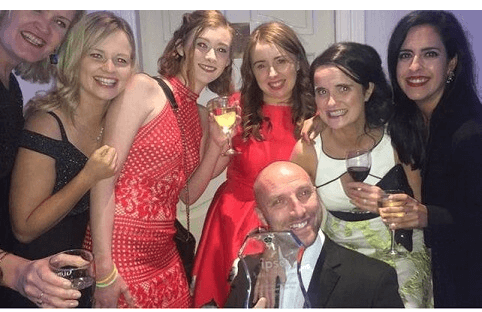 Darren Smith showcasing the Provident Financial Award with the team from Mercers…
The ESOD is now in its second year and is a "must save" date for your diary to catch up with peers and benchmark the work you do in this space. I am happy to share further insight with you on this event (and others that we have been part of this year) just give me a call on 07736 551 270 or drop me a line to dsmith2@ybs.co.uk